Clients can now book our O'Hare Limo Service online when they need reliable and affordable transportation to and from Chicago O'Hare International airport (ORD). We are always on time, anytime. Arrive or depart in style and comfort. Chief Chicago Limo is working hard to deliver the best limousine service to O'Hare airport. Experience our luxurious vehicles and professional chauffeurs. Get an O'Hare limo to travel worry-free. Relax and enjoy the ride or focus on your business agenda.
Our limo service to O'Hare consists of a wide selection of latest vehicle models. Sedans, SUVs, Stretch limousines and VANs are available for your ground transportation needs. We can take care of large groups up to 13 people. The most popular vehicle used for our O'Hare Limo Service is the SUV. Clients like the spacious leg room, smooth ride and the big trunk size.
Get instant rates when you fill out the booking tool below. Chief Chicago Limo is open 24/7, 365 days a year. Reserve online your next airport limo service O'Hare with us.
Facts About O'Hare International Airport (ORD)
The ORD abbreviation keeps the airport's first name- Orchard Depot Airport. The name was changed to O'hare after the memory of the navy pilot Lieutenant Edward Butch who died in WWII.
Chicago O`Hare International airport is a mega hub. ORD is the third-busiest airport in USA and the sixth-busiest in the world. It's located 18 miles northwest from the Loop. Travel time to O'Hare often depends on traffic and road construction. ETA can be between 30 minutes and 1.5 hours. The busiest days to travel are Mondays, Thursdays and Fridays. If you have a chance, avoid travel on these days between 6-8 am, and 4-7 pm. It can get really messy.
ORD airport is handling over 80 million passengers a year and 1 million aircraft movements. It has 4 Terminals- three domestic and one international. Imagine how busy it can get! For first timers at the airport it can be really confusing to get around it and find your way out.
That's where our O'Hare limo service comes handy. We make pick ups from ORD easy and efficient.
Advantages Of Booking O'Hare Limousine Service Over Taxis, Public Transportation And Rideshare
You can go to O'Hare by taxi, train, bus and rideshare. However, when you compare all these options with a nice black car service you will be surprised. Reserving a Chicago O'Hare limo service has its advantages.
We are reliable, convenient and 24/7. Punctuality is important and your chauffeur will arrive as scheduled no matter how early or late your pick up is. Bad weather and traffic cannot stop us from being on time. Avoid the stress trying to find a taxi early morning. Rideshare is not always available. Do you really want to walk and drag your suitcases from home to the bus stop or the train station? Our O'Hare limousine service is a door-to-door transportation which saves you time and headache.
Consistency in quality is the strength of our limousine service to O'Hare airport. We managed to harmonize operations and all our chauffeurs are on the same page. Vehicles are always clean, interior is immaculate and your limo driver will walk
the extra mile for you. On the other hand, taxis and rideshare are hit and miss. You never know who will show up and what the condition of the car might be. Let us help you with luggage, open doors for you, offer you an umbrella and so on. Reach out to the pros for your next ride to O'Hare.
Your safety and privacy is #1 priority. Vehicles are inspected every month. Our licensed, fingerprinted and confidential chauffeurs use defensive driving skills to safely move you from point A to point B. Whatever happens in our limos, stays there. We do not listen to music or converse with clients. Can you get the same from taxis and rideshare?! Sometimes they pick up like that
:
How Much Is A Limo To O'Hare Airport?
Our O'Hare limousine service is budget friendly. A limo to O'Hare starts from $65, all inclusive rate. That's a sedan cash rate for a limo from O'Hare to Glenview, IL. SUV is $77. As you can see rates vary based on distance, vehicle type and payment method. We cover thousands of zip codes and is impossible to list all our rates for each of our vehicles.
However, thanks to our state of the art booking tool, you can get instant quote in 30 seconds. Just fill out the form above and you will be all set.
Which Areas Do You Serve?
We cover any safe and low-crime area for trips to and from O'Hare. We will drive thousands of miles as long as your ride starts or ends at Chicago O'Hare airport. Besides the long distance limo service to and from O'Hare, you can also enjoy our:
O'Hare Limo Service To Chicago
Our O'Hare limo service covers Chicago and its Downtown. The City is a huge business center and a major tourist destination. Thousands of people per day travel between Chicago and ORD airport. We pick up and drop off passengers in downtown Chicago residencies, hotels and offices. Limo service to McCormick is a popular type of transportation during the convention season. Limo tours are popular among the tourists. Special events limo services are suitable for concerts and sports games.We execute thousands of airport transfers between Chicago and O'Hare.
Clients who come for one day on business often book our Hourly ORD limo service. We will pick you up from O'hare airport and you will have full control where you want to go. Your limo will be always with you. Just call your chauffeur when you are ready to jump to the next meeting and yo will be taken care. The same if you want to leave earlier. Your limo to O'Hare will be waiting for you.
Trust us with your car service between O'Hare and Chicago.
O'Hare Limo Service To Suburbs
It's hard to get a taxi in some remote areas and people prefer to prearrange a limo service. Our specialty is limo service to O`Hare from north suburbs and northwest suburbs. However, we also offer limo service to ORD from the west and south suburbs. Our O`Hare airport car service will go anywhere. Illinois has hundreds of suburbs and we will drive to all of them. No matter of the distance and the time of your pick up, your chauffeur will show up on time. We monitor current traffic and adjust accordingly. However, we always advise you leave enough time for your Chicago airport transfer.
What Should I Do When I Arrive At O'Hare? How To Find My Limousine?
Don't worry about anything. Chief Chicago Limo has the easiest curbside pick ups from O'Hare.
As soon as you land, our chauffeur will send you a welcome text with instructions about your pick up and the make and license plate of your limo. Please respond to the message and keep in touch with your driver. It will help us facilitate the pick up and perfectly time the arrival of your vehicle.
If you do not have checked-in luggage, let us know when you step out of the plane. If you have bags, after you collect them ALL, tell us the closest exit door to you and proceed to the MIDDLE LANE outside that door. Doors have a number for the terminal and a letter for the vestibule- 1D, 1E, 2C, 3E, 3G etc. Your ride will arrive in 8-10 minutes.
Check these photos to get a better idea:
Why Do I Need To Wait For My O'Hare Limo?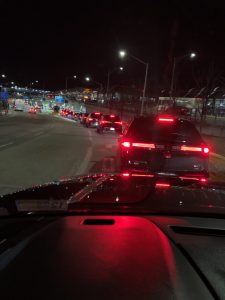 One of the reasons is that limos are staged at the Commercial vehicle parking lot which is 3 miles from the airport terminals. From there, we have to drive at 25  mph, go through 5-6 stops signs, 3 traffic lights and submit our paperwork to access the terminals. Under normal conditions 8-10 minutes is a good ETA. However, on busy days it can double.
Another reason is that by law, curbside wait is not allowed at O'Hare and Chicago Police is strictly enforcing "zero dwell policy". In other words, your car cannot arrive at the pick up spot before you. If that happens, authorities will make your driver leave, circle and pay another airport fee. Often, they write us tickets too. If that happens, you will be delayed with at least 20 minutes.
It's very important you understand how O'Hare works so we avoid any delays and extra charges. Check these pictures and video to get a better understanding:
Can You Meet Me Inside The Terminal With My Name On A Sign?
Absolutely! When you place your reservation online, there will be a field to plug in your flight details. Once you do that, you will have an option to upgrade to Meet and Greet.
Our chauffeur will meet you inside the arrival hall with your name on a sign, help you with luggage and escort you to your vehicle. Meeting point for domestic terminals is your baggage claim carousel, while for International arrivals that is the information desk, between exit door A and B.
Best Limo Service To O'Hare
Chief Chicago Limo is a 5-star rated airport transfers company in Chicago. Check what some of our happy clients say about us on Google and TripAdvisor. Your family or colleagues will be taken care with style and professionalism when you book our Chicago O'Hare airport limo service. Let our airport car service take care of your next business or vacation trip.
We have some of the best rates on limo service to O'Hare. We work hard to stay competitive and save you some money. Our limo rentals are affordable and yet classy. If you would like to pay cash, we will give you even a better deal.
It's very easy to book online with us. Avoid headache from lengthy phone calls, spelling, repeating and international charges. When you reserve us online, you save yourself time and money.
Chief Chicago Limo is your one-stop online shop for O'Hare limo services.
We are looking forward to driving to you to O'Hare soon!