Golf Transportation Chicago
Our premium Golf Transportation Chicago is for all the Chicago area golfers. We can accommodate up to 13 players and their equipment in a single vehicle. You can now book online transportation to golf courses in Chicago, its suburbs, the rest of Illinois and even the neighboring states. Whether you are local or just coming to town to hit the country club for a round of game, plan your trip with our personal golf course transportation.
Golfers not always drive their own cars to the course. Taxis are usually small, compact sedans that will never fit your equipment. Same goes for rideshare vehicles. Any golfer knows how hard is to find a vehicle to fit all the gear and move it to the greens. Remember, not all cargo space is created equal. Especially, if you are with a group of friends, family or business partners. Arranging golf transportation requires a bit more work than a simple airport ride. We, at Chief Chicago Limo, make your life easier.
Best Cars For Golfers- Pick The Right Vehicle For Your Golf Transportation In Chicago
Chief Chicago Limo is all about helping clients make the right choices and have a pleasant experience. We will share our experience from the years of moving golfers around the greater Chicago land.
Sedans
Avoid the sedans if you are not traveling solo. Limited cargo space and less leg room can ruin your whole day. You do not want golf bags poking your elbow or feeling embarrassed in front of your guest that you did not make the right choice.
American Full-Size SUVs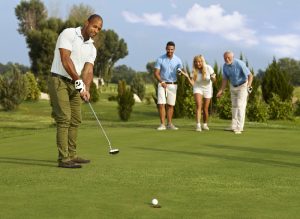 One of clients' most favorite and most popular vehicle for golf outings is the American full-size SUV. Off of all the makes, Chevrolet Suburban and GMC Yukon XL still have the most cargo capacity. 6 golf bags easily fit in the spacious trunk while you will enjoy a roomy interior. Another advantage of the SUV is its affordable rate. For $20-$30 more than what you will pay for a sedan, you will travel stress free. You will never go wrong when hiring a SUV for your golf course transportation while in Chicago.
Stretch Limousines
Another vehicle you might want to consider is renting a stretch limousine for your personal golf course transportation. Stretch limos can transport up to 8 people and have a divider between the chauffeur and the passengers. It's more of a private vehicle where you can consume alcohol on the way. Even if all your golf clubs do not fit in the trunk, you can bring some inside the seating area. Stretch limos are more expensive, but they are worth every penny when you are out to celebrate or impress.
Mercedes Sprinter Vans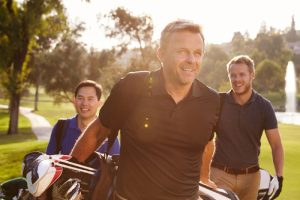 If you are a larger group of around 12-13 golfers, the best choice for your transportation to golf courses in Chicago would be our luxurious 13 pax Mercedes Sprinter. While most of the vans out there are basic and uncool, ours are equipped with a conference table, hardwood floors and comfy leather-cushioned seats. Thanks to modifications we did our Mercedes Sprinter VANs are the preferred vehicle for corporate golf outings and transportation service to golf tournaments.
Golf Transportation From O'Hare
If you are arriving in Chicago with golf bags, always prearrange your airport transportation to Chicago Golf courses. If you don't, you will be unpleasantly surprised how hard is to find golf bag transportation. Chief Chicago Limo is here to help and that's where our golf transportation from O'hare comes handy. We track your flight and adjust accordingly to your actual arrival time.
Reserve Curbside. As soon as you land our chauffeur will send you a welcoming text with further instructions. When you get all your bags, let us know which is the closest exit door to you- 1D, 2C, 3E, 3G, etc- and your vehicle will start heading towards you. Exit that door and proceed to the middle lane. Meet your ride in 8-10 minutes.
We DO NOT recommend Meet and Greet when you book golf transportation from O'Hare. Although chauffeur will meet you inside the terminal, you will still have to drag the golf bags for about 10-12 minutes till you get to the parking lot. Luggage carts at the airport are not made for golf bag transportation either. Curbside is quicker and easier in this case.
Whenever you need transportation from O'Hare to golf courses, think of Chief Chicago Limo!
Where To Golf In Chicago?
Golf Courses in Chicago And The Suburbs
There are over 200 hundred premium golf courses in the Chicago area and 400 hundred in the whole state of Illinois. Some of them are public, others are private where only members are allowed. In addition to that, wealthier subdivisions have their own golf courses which are great for residents and their guests. There are also dozens of golf ranges where you can pay by the hour.
Use Chief Chicago Limo's reliable transportation to golf courses in Chicago. We will gladly drive you to any of them.
20 Best Golf Courses In Illinois
1. Chicago G.C., Wheaton IL
2. Butler National G.C., Oak Brook IL
3. Medinah C.C., Medinah IL
4. Shoreacres, Lake Bluff IL
5. Canyata G.C., Marshall IL
6. Olympia Fields C.C., Olympia Fields IL
7. Rich Harvest Links, Sugar Grove IL
8. Old Elm Club, Highland Park IL
9. Skokie C.C., Glencoe IL
10. Conway Farms G.C., Lake Forest IL
11. Cog Hill G. & C.C., Lemont IL
12. Beverly C.C., Chicago IL
13. Butterfield C.C., Oak Brook IL
14. Black Sheep G.C., Sugar Grove IL
15. North Shore C.C., Glenview IL
16. Wynstone G.C., North Barrington IL
17. Merit Club, Libertyville IL
18. Bull Valley G.C., Woodstock IL
19. Bob O'Link G.C., Highland Park IL
20. Knollwood Club, Lake Forest IL
How Much Is Our Golf Course Transportation Chicago?
Get instant rates and book online your transportation to golf courses in Chicago. Just fill out the form below and click on "SELECT VEHICLE". Our state of the art reservation system allows you to retrieve quotes in seconds for any destination of your choice.
Lets get booking: