How To Find The Best Limo Service Chicago
Here, we will share some tips on how to find the best limo service Chicago. But let's see what triggered that first. If you are looking for a new limousine service in Chicago, that means you are new in town or your old provider failed you.
Going to a new place always creates the need for a reliable transportation. Especially in Chicago. It's a busy city with millions of visitors per year. In addition to that, Chicago O'hare international airport is one of the busiest in the world. Finding the best airport limo service Chicago is not easy. It's completely normal to worry how to get around in this 3 million city. We are here to help you find a solution so you travel worry-free.
Why Limo Companies Make Mistakes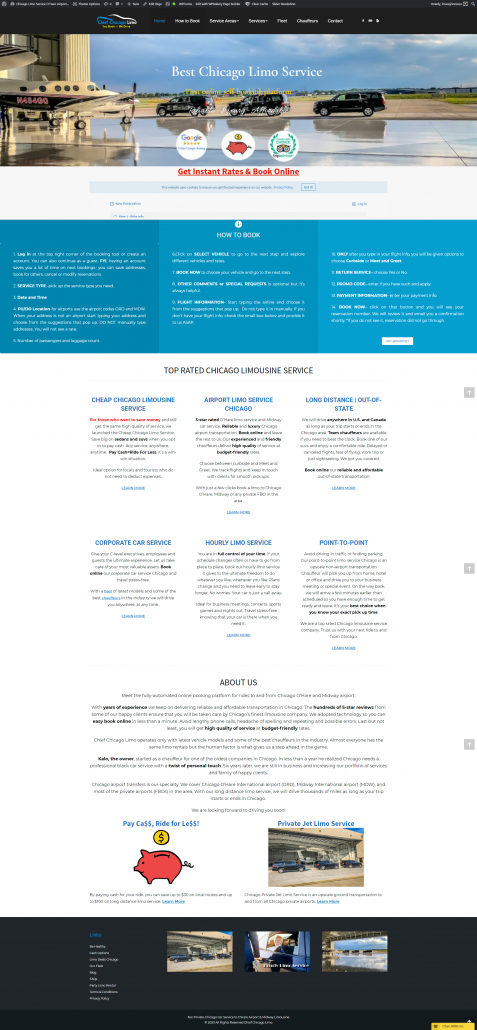 Most of the limousine companies make mistakes. This business is stressful and often unpredictable. If a limo company has no experience and reliable fleet and chauffeurs, it's doomed to fail it's clients. Trips are usually planned and scheduled from the day before. If one client comes out later than expected, the driver may get late for the next pick up. If your plane is arriving earlier or later, that will affect the next trip. It's like a snowball. The list goes on.
Maybe you got a new, inexperienced chauffeur who missed an exit and you got late for your business meeting or event. There could have been better route your driver could have taken. Old, dirty or smelly car showed up. Dispatch forgot to schedule the rides or missed the wake up call for your early morning pick up. Or your limo company went out of business. As you can see there are many reasons to trigger your search for a new Chicago limousine service company. We will try to help you find the best limo service Chicago.
Don't worry! Through out the years of moving patrons, we learned a few tips. We will now share them here with you. Also, we listen to our chauffeurs and value the fresh feedback from our clients.
The Best Limo Service Chicago Is Through Word Of Mouth
The first and best way to do that is through word of mouth. It's old school method which always works. On top of that, you trust your connections, family and friends. They will never offer you something bad. Also, your circle most likely likes the same things you do. If that does not work, do not give up.
Ask your workplace about a good Chicago Limo Service. Maybe someone from your job flies in and out of Chicago for business. If your company trusts that limo company in Chicago for its executives and employees, you can do that too.
Don't rush to go through the next steps. Take your time. Word of mouth is the best way to find a good Chicago limo service. Both for you and the company. That's the only way a business will build a portfolio of loyal clients who will stick with them through thick and thin.
This also the way we usually go. The only disadvantage is that it takes time. But it pays back tremendously. If there is no one to share their good experiences with a Chicago limo service you can move to the next step. It's more complicated one, but it can also give you good recommendations.
Search Online For Best Limo Service Chicago
Your second option is to search online for "top rated Chicago Limo service" or "best limo service Chicago". It's the fastest and easiest way to find transportation in Chicago. However, it's a hit and miss. But, if you do your homework right, you can land on a good black car service in Chicago. When you see the results online take your time to examine them. We will try to help you understand how the search engines work and how to read their results.
How Does A Search Engine Work
The first 3-4 results on the top and bottom of each page are always the paid ones, or the sponsored ones. They have small "ad" next to them which stands for "advertised". However, it does not mean that whichever listings are on top, are the best ones. It's actually whichever pays more and places higher bids for the ads, gets listed there. Limo companies which pay for ads are usually desperate for new clients or try fill out their empty schedule. Another reason for advertising is to survive during slow demand. That's not what Chief Chicago Limo does it.
The companies below them are the so called organic search results. Those listings are not free but they show you that they are serious about what they do. To be positioned organically on first and second page, requires long time, dedication and available resources. It means that the business is in it for the long run.
Don't stick to page 1 results only. Explore and the results on page 2. Often you can find your gem there. Google changes the search results often and if a company was on page 1 this month, next month it can be down to page 2. That has nothing to do with the quality of service or ratings. It's complicated game of knowing algorithms. On top of that, one company can rank higher when search for " Chicago limo service " while another can rank higher when you search for " Limo from O'Hare to Milwaukee ". It's basically the same thing but a game of words.
After you pick a few names, there is still more to do to find the best Chicago Limo Service.
Book With Local Chicago Limo Company
They do not have fleet and chauffeurs in Chicago and resell the bookings to local limousine and black car service companies. That means they put mark ups which can be up to 50%
When you have found out a few Chicago limo companies can investigate even further.
CHECK THEIR REVIEWS
To find a good Chicago limo Service you can test some of the companies which grab your attention. Take their name and search it on a new page. You will be amazed what you can discover.
Look for a business with good and consistent reviews. If it says they are 10 years in business but have only 20 reviews, something is fishy. Avoid Facebook reviews and similar. Stay away from Yelp too- they only rank higher those businesses that pay them. Focus on reviews on TripAdvisor and Google.
Did you notice that your list is getting smaller and smaller? Now…..
SCAN THEIR WEBSITES
Look for nice design and user friendly experience. A crucial thing nowadays is if you can get an instant rate for your route online and book yourself. Companies which have implemented technology usually offer better rates and have more time to focus on delivering high quality of service.
See if they offer promotions or any type of interaction-spinning wheels, promo codes, pop up chats, etc.
CHECK THEIR RATES
BE CAREFUL!!! That rate must be final and all inclusive. Transparency says a lot. If gratuity, tolls, airport fees are not included, stay away! They are trying to lure you, scam you and in the end, rip you off. A good Chicago limo service company is an honest one. Whatever you see is what you will pay. No room for ifs and buts.
CHECK THEIR FLEET AND CHAUFFEURS
Look for authentic and real photos of their cars and limo drivers. Ignore the companies with stock images. They have something to hide.
A good Chicago limo company will have real time photos of their cars and images of their actual chauffeurs. This way you will know that whatever you see is what you will get.
Last, but not least ……
CHECK THEIR CANCELLATION POLICY
Sedans and SUVs should have a cancellation policy of 2 hours. Specialized and big vehicles is normal to have stricter time frame.
Believe it or not some companies have no refund policy, others 24 hours or 12. You don't want to waste your money only because your flight got delayed or your plans changed. Flexibility is important in our business and a good Chicago limousine service should respect that.
We now bet, that you have left with 2 companies on your list. Now the choice is yours of course, but there is still a small trick which we would recommend. Check if they have pop up chat or give them a call. Whichever one has better attitude, go with them ;). We stay away from calling because we ourselves have eliminated that to save you lengthy phone calls, headache and possible errors. It made our clients' lives easier and gave us more time to focus on the quality of service.
We hope we helped you in Booking the best Chicago limo service company. Good luck and tell us what happened
Are We One Of The Best Limo Services In Chicago
We gave you some tips so you do your homework and see where we stand! If you think we are a good fit for you, click on the button below and welcome on board!